We support from formulation design of investigational medicinal products to commercial manufacturing for the global market. We are capable of several dosage forms, such as oral, injectable, semi-solid and solution for external use. Moreover, we can handle a wide category of drug products, including general drugs, antibiotics, hormone and high potent compound. Our special technologies enhance your product value with innovation.
One Stop Solution

We provide a full range of support from "Formulation design" to "investigational medicinal products and commercial manufacturing."

Containment

Our "Containment technology" enables us to handle a wide range of drug products including high potent compound, hormone and antibiotics.

Innovation

We bring innovation to pharmaceutical development and manufacturing utilizing our technologies such as "Continuous manufacturing technology" and "Absorption enhancement technology."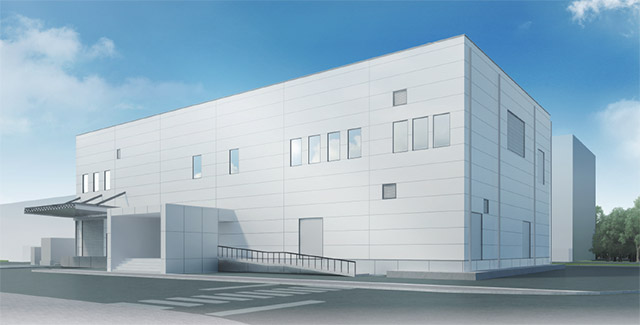 High Potency Solid Dosage Form Building (Plan for Completion in July 2021.)
We are currently building a continuous line for manufacturing tablet formulation that uses high potency compound for clinical trial and commercial manufacturing.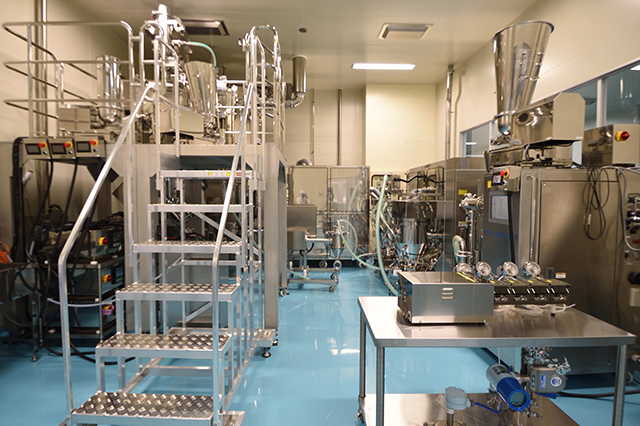 Continuous Manufacturing Technology (Currently in operation)
We contribute to shortening development time and deliver cost savings for our clients by using continuous manufacturing technology. For details, please refer to Continuous ManufcturingTechnology for High Value-Added Formulation that is our special technology.
Overview of the Continuous manufacturing Technology
Formulation Design / investigational medicinal products Manufacturing (Settsu Plant, Amagasaki Office)
Pictures show some of our facilities. We provide one-stop service from formulation design and manufacturing of investigational medicinal products to scale up activities with foreseeing commercial manufacturing.
48 & 80 Type Coating machine

50 Type High-Share Granulator

Aseptic Vial Filling machine
36 Station Rotary Tablet Press

15 & 30 Type Fluid Bed Granulator/Dryer
Pharmaceutical Manufacturing (Settsu Plant, Kanegasaki Plant)
Shionogi Pharma owns manufacturing technologies with flexibility to handle from investigational medicinal products to commercial products. All 4 domestic plants meetthe requirements of Japan-USA-EU GMP and PIC/S GMP to provide high manufacturing capabilities for the global market. Pictures show some of our facilities.
General oral solid formulation (tablets, capsules, granules) at Settsu Plant
Cephem oral solid formulation (tablets, capsules, granules) at Kanegasaki Plant
Aseptic hormone formulation (ampule injectables, eye drops) Settsu Plant
Aseptic hormone API at Settsu Plant
Injectable vial formulation (Lyophilized formulation for cephem, powder filling formulation for carbapenem) at Kanegasaki Plant
Versatile small capacity of facility

Three-layer tablet press with external lubrication function

Capable of increasing production volume with mid to large capacity facilities
Ampule filling line

Ampule injectable appearance inspection

Largest grade of Lyophilization facility in Japan, (3 units)

Vial and powder filling facility
High Value-Added Formulation Using Specialized Technologies
Shionogi Pharma has many special technologies to add values to pharmaceutical drugs and formulations. These special technologies can be used in any cases and stages; not only for developing products but also for life cycle management of commercial products.
Continuous Manufacturing Technology
It is possible to greatly reduce the usage amount of API or development time. Additionally, by using PAT (Process Analytical Technology) tools for quality assurance, upgrading of manufacturing and reduction of facility space can be realized at the same time.
No need of scale-up during development stage
Greatly reduce the usage amount of API
Reduce development time
Save facility space
Flexibility of manufacturing scale based on demand
Avoid human error
Real time monitoring for improvements of quality assurance and manpower savings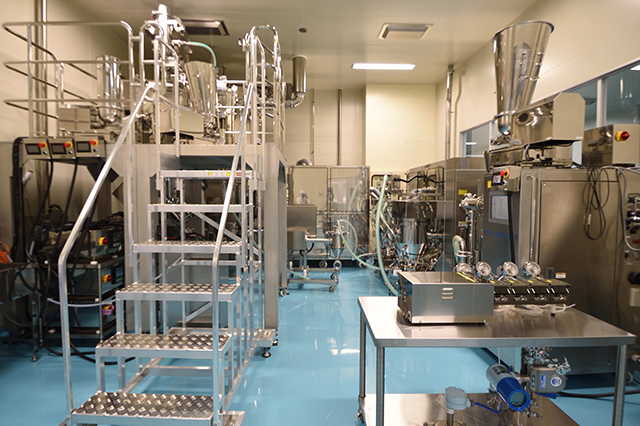 Orally Disintegrating Tablet Technology (Patented) with Multi-Layer Tableting Technology
We have the technology to manufacture orally disintegrating tablet with "high tablet hardness / very fast disintegration / low cost." At the same time, it is possible to combine with multi-layer tableting technology used for avoiding drug-drug interaction and for developing combination drugs. We can also manufacture small size (6mm diameter) three-layer tablet which results in improving acceptability.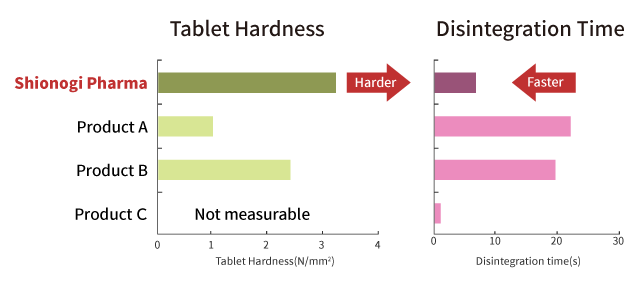 Direct Compression Method for Very Fast Disintegration with Low Cost

Small size tablet with diameter 6mm and thickness 2.7mm Three layer tablet
External Lubrication Tableting Technology (Patented)
External lubrication tableting technology is to compress the tableting powder/granules after coating the punch and die with lubricant. This greatly reduces the lubricant content in the tablet. This technology reduces the mutual interaction between lubricant and API and then, improves stability of API while reducing disintegration time and increasing hardness. Additionally, this technology can reduce issues that may occur during tablet compression, such as sticking. One stop service is possible from the early stage of formulation development to commercial manufacturing, since we have equipment for laboratory, clinical and commercial use. It is possible to combine with the orally disintegrating tablet technology and with multi-layer tableting technology.
Internal Mixing Method (General Tableting )
External Lubrication Method (External Lubrication Tableting)
Depiction Image Figure
Added Lubricant amount
1~3%
Below 0.1% is possible
Disintegration Time
Slow
Fast
Hardness
Low
High
Stability of API
Mutual interaction with lubricant
Less mutual interaction with lubricant
Tableting Problem (Sticking)

Need to increase lubricant to avoid

Due to over-lubricant, there are risks such as tablet hardness reduction and Dissolution delay

Possible to avoid without increasing lubricant

Practically no risk that is listed on the left
Suspension Technology (patented)
This suspension technology used for dry syrup has superb water suspension characteristics compared to other companies' technologies, making it superior in drug usability. Also, this technology is superior in term of defoaming property (foam breaking) after shaking, making it easier for patients' acceptability.
Usage Example for Pediatric Fine Granules
For pediatric fine granules, we have wax matrix technology to mask drug bitterness. When this technology was used for fine granules, the granules suspended in water floats on the surface and it was difficult to be administrated. However, applying our new suspension technology, we are able to create uniform suspension without loss of masking function. This patented technology will greatly improve acceptability.
Suspension of granules in water Before/After Improvement

Depiction Image Figures of Formulation Before and After Improvement
Absorption Enhancement Technology for Poorly Soluble Drugs
We have the manufacturing technology of solid dispersion using spray dry technology and nano particle technology for enhancing the absorption of poorly soluble drugs.
The figure below shows the plasma drug concentration after administering conventional formulation and formulation with our technology.
Plasma Drug Concentration after Administering Conventional Formulation and Formulation with Our Technology (Depiction image figure)
Manufacturing Technology of Solid Dispersion Using Spray Dry Technology
Since we have various scale facilities that can handle organic solvents, it is possible to proceed as a one stop service from the early stage of formulation development to commercial production.
Nano-particle Technology
We are developing a unique technology to greatly reduce elemental impurities.
Fine Particle Coating Technology
Using fine particle coating technology, it is possible to control drug release and drug absorption site. Shionogi Pharma has a multi-layer fine particle coating technology with uniform thickness. This stabilizes drug release via dissolution control layer. In addition, we have manufacturing technology that reduces the adhesion of fine particles to each other during coating, which enables high yields.
Granule with 4 Layers of Uniform Coating (depiction image figure)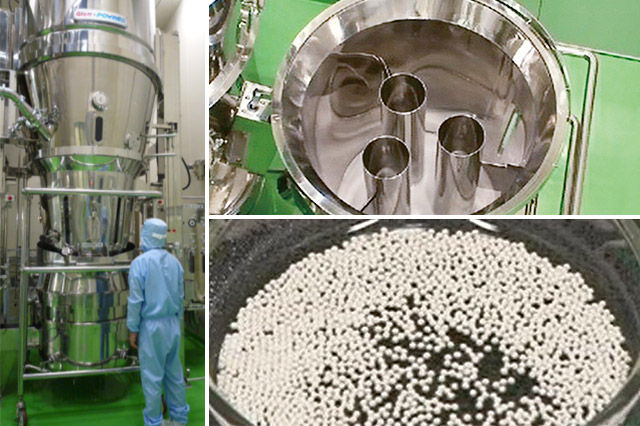 Wurster granulators capable of fine particle coating and coated granules
Next Generation Lyophilization Technology
There are three processes in the normal lyophilization process.
(1)Freezing process
(2)First drying process
(3)Second drying process

In conventional technology, super cooling before freezing in the lyophilization process results in formation of small ice crystals and ice crystal is difficult to be sublimed during the first drying process, which may cause increase in drying time. On the other hand, with the next generation lyophilization technology, ice fog is blown in during the freezing process to become crystal nuclei and as a result, ice crystal size is larger and ice crystal is easier to be sublimed during the first drying process. This greatly reduces the drying time and improves productivity.

Consulting
Do you have any problems related to processes and/or quality design works with your pharmaceutical commercial products or developing products? We can provide technical supports and consulting services to solve such challenges. For example, we can help in the areas listed below.
Proposal for improvement of quality such as dissolution
Proposal for solution to manufacturing issues
Proposal for operational efficiency (cost reduction) through reviewing manufacturing conditions
Proposal for scoring methods to assist CMO selection
Proposal for efficient scale-up methods