One Stop Solution

We support "Manufacturing process development of API and intermediates" to "clinical batch and commercial Production."

Containment

Our "Containment Technology" enables to produce the high potent API (HPAPI), hormone API and Beta-lactam antibiotics.

Innovation

Our Computational Fluid Dynamics (CFD) technology and PAT aids the development of robust API process, Spray drying technology enables novel API production.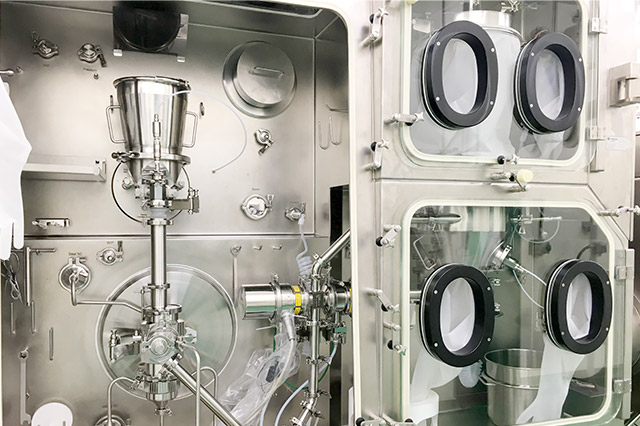 Pulverization of high pharmacological activity drugs
Counter Jet Mill (Pulverizer) with containment system produces high quality fine API powder. Furthermore, the containment technology robustly protects operators from hazardous compounds exposure.
Counter Jet Mill with Isolator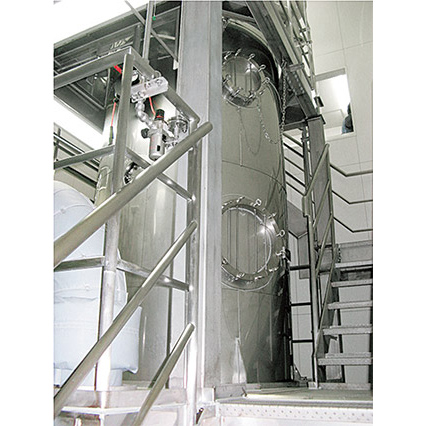 Spray Dryer capable of using organic solvents
Our various types of spray dryer for using organic solvent are applicable to development phase. Additionally, we propose to improve the solubility of API by "solid dispersion" using spray dryer.
Capacity of spray dryers
Desk-top Experimental Unit 0.2kg/hr
Investigational medicinal product size production Unit 0.8kg/hr
Commercial size production Unit 5kg/hr
Spray Dryer is applicable to Commercial Production
Production Process Development
Our professional CMC R&D staff utilizes their experience and technique in new drug development of high quality API and intermediates production process development. We are dedicated to controlling genotoxic and mutagenic impurities in API, and establish the production processes with priority consideration on safety and environmental. In addition, we support to plan strategy for starting material.
Experiment for Developing Manufacturing Methods

Automated Synthesis Equipment

Analysis Equipments (UPLC)

Example of DOE Experiment Analysis
Evaluation for Scale-up
We have developed scaleup platform for achieving the target material with equivalent yield and quality as compared to that of laboratory. We perform scale up simulation and set production parameter by making full use of Computational Fluid Dynamics (CFD) technology and Process Analytical Technology (PAT), based on parameter setting in laboratory.
We establish robust Commercial and Pilot production parameters and conditions based on the result of these simulations. Our professional chemical engineers will propose the solution to meet your needs.
CMC Development

Experiment: 1-2 kg
Small Scall Production: 5-20 kg

Experimental Laboratories/Kilo Lab: Amagasaki, Tokushima, Kanegasaki

Manufacturing of Clinical Trial Drugs

Small/Medium Scall Production
50~200kg

Non hazardous Drugs: Amagasaki, Tokushima
Antibiotics: Kanegasaki
High Potent API: Tokushima

Commercial Manufacturing

Medium/Large Scall Manufacturing
>500kg

Non hazardous Drug: Tokushima
Antibiotics: Kanegasaki
High Potent API: Tokushima
Flow pattern Analysis in Mixing Vessel (CFD)

PAT Equipment (In Situ FTIR Spectrophotometer, Inline Particle Size Distribution Measuring Instrument (Inline Microscope)

Example of In Situ FTIR Reaction Analysis

Example of In Situ Crystal Properties Evaluation
Sample Synthesis
We can contract from evaluation of synthesis route scouting to kilogram level sample preparation for pre-clinical trial testing use.
Kilo Lab. Equipment (20L)
Investigational medicinal production
Our well experienced operators will produce the investigational medicine by using the GMP compliant software and hardware equipment. We own high pressure reaction unit, crystallizer in-line monitoring and pulverizer in our plant to meet any requjirement of our clients . Also, we can handle high potent material with PDE (Permitted Daily Exposure) value of higher than 10micrg/day.
To evaluate the validity of the established manufacturing method, we also conduct an evaluation of scale up factors at pilot scale.
Investigational Medicinal Production Facility (Inside Clean Room)

Investigational Medicinal Production Facility (Conical Dryer)

Investigational Medicinal Production Facility (Glass Lining Reactor Equipment)

Crystallizer Inline Monitoring (Inline Particle Size Distribution Measuring Instrument)

Pulverizer (Counter Jet Mill)
Commercial Production
In Commercial production phase, intermediates and API manufacturing is conducted at Tokushima Plant and Kanegasaki Plant under strict adherence to GMP control system standards.
Tokushima Plant: Manufacturing of low molecular weight pharmaceuticals for treatment, High potent API etc.
Kanegasaki Plant: Compounds containing Beta-lactam structure etc.
Manufacturing of API and intermediates for non hazardous drugs, Manufacturing of high potent API (Tokushima Plant)
Aerophoto of Tokushima Plant

Non hazardous drug Manufacturing Building

High potent API Manufacturing Facility
Beta-lactam antibiotics intermediates and API manufacturing (Kanegasaki Plant)
Aerophoto of Kanegasaki Plant

Reactors

Automatic Control by Distributed Computer System (DCS)
Environmental and Safety Evaluation
We conduct safety evaluation of manufacturing processes such as measurements of reaction temperature and evaluation of biodegradability to reduce environmental loading. Our research specialist provides consulting services for evaluating safety and environmental.
Runaway Reaction Simulation (ARSST)

Reaction Heat Evaluation (RC1)

Evaluation of Waste Fluid Treatment by Microorganism (Activated Sludge Process)

Analysis Example of Reaction Heat Evaluation