We have a long history with focus on construction of pharmaceutical manufacturing facilities and plant maintenance. Based on our own experience, we offer a full range of engineering services in the areas of basic planning, design, installation, validation and maintenance from "User's Point of View" with "Quality", "Speed" and "Cost" in mind.
One Stop Solution

We offer proposals from basic planning to validation and maintenance, based on deep knowledge of pharmaceutical manufacturing with heavy emphasis on quality.

Validation

We conduct validation activities in accordance with standards requirement of various regulations (PIC/S,J-GMP, c-GMP and EU-GMP)

Trust

Based on years of experience, we provide comprehensive engineering support services for pharmaceutical related facilities.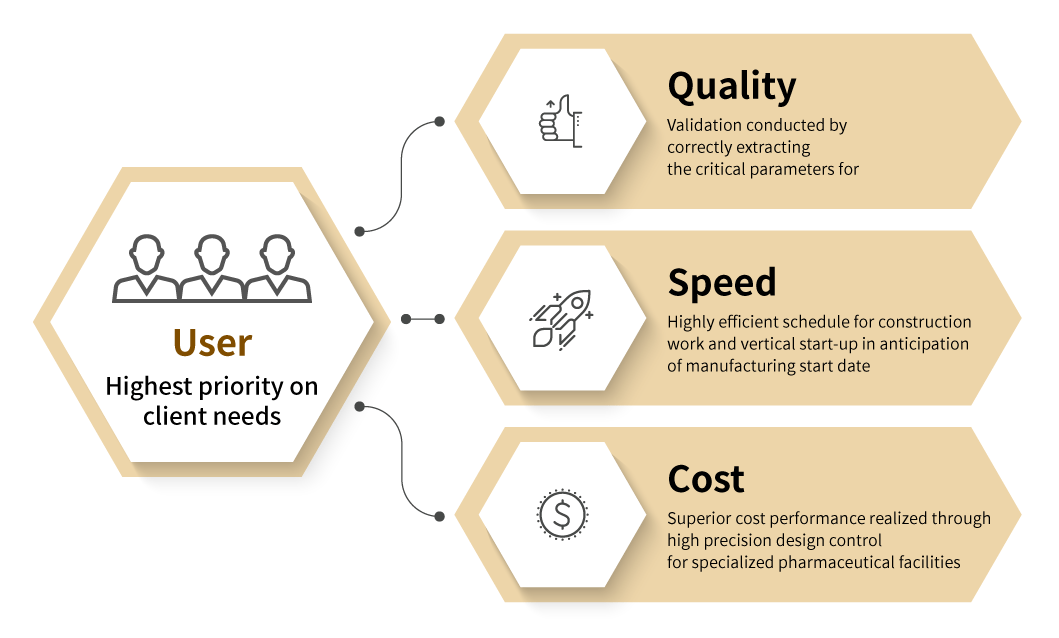 Engineering Business
Investigation
We consider and conduct investigation as a "total system," diving into the most basic essence of pharmaceutical manufacturing.
Basic Design
Based on our rich knowledge of pharmaceutical manufacturing, we present to you a highly completed proposal with emphasis on quality and productivity.
Design Control
In addition to strict GMP adherence, we conduct design control activities that can win your satisfaction with considerations on productivity, operability and maintainability from user's point of view.
Validation
We provide appropriate validation work with emphasis on quality that meet requirements of various regulations.
Maintenance Business
Maintenance
Based on our unique know how and our experience gained through many years of maintaining pharmaceutical manufacturing plants, we provide support that is directly targeted for stable operation.
Pharmaceutical Related Engineering Business (Design Control / Consulting)
Based on our years of experience as a pharmaceutical manufacturer and our experience in supervising design work, we deliver engineering support to our users with priority on customer satisfaction. Our engineers with full knowledge of pharmaceutical manufacturing will work with you side by side from basic design work, design control and to validation.
Target Work Areas
Investigation, master plan, basic design, detailed design, plant inspection, construction work supervision, construction, test operation / adjustments, validation (VMP, DQ,IQ,OQ and computer validation), calibration and others
Conceptual Plan to Basic Plan
We create master plan and basic design for pharmaceutical related equipment and facilities that meet standard requirements of PIC/S GMP, J-GMP, c-GMP and EU-GMP)
Layout (Equipment layout)
Productivity (operability)
Production Volume (size of equipment capacity)
Maintainability (ease of maintenance)
Selection of detailed specifications for equipment
Countermeasures against foreign matter contamination
Safety of workers
Containment (of chemical hazards)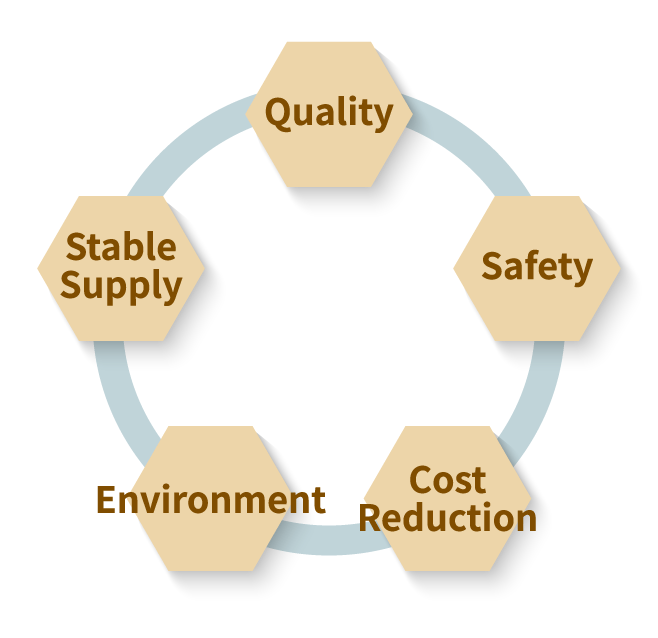 Validation Work for Pharmaceutical Facilities (PIC/S GMP and J-GMP, c-GMP and EU-GMP compliant)
Validation Work Flow
Accurate identification of possible items of concern after facility hand over in each of the stages from design, fabrication, plant acceptance, test operation and to adjustment.
VMP

We draft efficient validation execution plan based on our experience.

URS

We extract facility requirements necessary for pharmaceutical manufacturing facility from user's point of view.

DQ

We verify the facility specifications with quality, operability and safety in mind from design phase to manufacturing phase.

IQ

We also conduct calibration work.

OQ

By accurate extraction of parameters that are critical to quality, we hone in on necessary execution items for each facility.

PQ

We provide engineering support during PQ conducted at client site.
Target Facility for Validation
Manufacturing Facility
API Facility
Solid Formulation Facility
Injectable Formulation Facility
Liquid and Ointment Formulation Facility
Eye Drop Formulation Facility
Packaging Facility
Manufacturing Support Facility
HVAC Facility
Water facility for Pharmaceutical
Utility Facility
Warehouse Facility
Building Facility
Electrical Facility
Test Research Facility
Target Facility
Construction of plant (pharmaceutical manufacturing Facility) at the time of new product market introduction
Improvement work for current facility (new installation, updates and other activities of facility and equipment)
API Facility, Formulation Facility (Solid Formulation, Injectable Formulation, Liquid Formulation, Ointment, Eye drops etc.), Containment Facility, Packaging Facility, Buildings, HVAC Facility, Pharmaceutical use Water Facility, Utility Facility, Quality Control Facility, Logistics Facility etc.
Contract Examples
Construction of new production building
Comprehensive engineering work including building to production line and manufacturing support system
Construction of new production line
Efficient construction of production area and production line in existing building
Modifications to existing line and existing production equipment
Modification, enhancement and relocation work for improving productivity and meeting GMP compliance
Modification, removal and renovation work involving HVAC facility, pharmaceutical use water facility and other utility facilities
Experience in New Building Design and Management (Related to Specialized drug, High pharmacological activity, Aseptic)
Shionogi Pharma Settsu Plant
Injectable Formulation Packaging Building

High Pharmacological Activity Solid Formulation Packaging Building

Antibiotics (lyophilization, powder filling)
Injectable Formulation Packaging Building

Injectable Formulation Packaging Building (lyophilization, liquid)

Shionogi Pharma Kanegasaki Plant
Antibiotics API Building

Shionogi Pharma Kanegasaki Plant
Antibiotics (lyophilization) Injectable Formulation Packaging Building

Shionogi Pharma Tokushima Plant
High Pharmacological Activity / API Building

Shionogi Pharma Kanegasaki Plant
Antibiotics Aseptic API Building
New Building Design and Management Experience (Other)
Shionogi Pharma Kanegasaki Plant
Solid Formulation Packaging Building

Refrigerated Warehouse Building

Packaging Building

Shionogi Pharma Tokushima Plant
Spray Dryer Building

Shionogi Pharma Tokushima Plant
API Building

Packaging Building

Shionogi Pharma Settsu Plant
Solid Formulation Packaging Building
Experience in Facility Installation (API Facility)
Containment Isolator

Reactor Distilling Equipment

Conical Dryer Equipment

Horizontal Centrifuge Equipment

Containment Capable Filtration Dryer Equipment

Containment Capable Pulverizer Equipment
Experience in Facility Installation (Vial Injectable Formulation Facility)
Vial Washing Facility

Dry Heat Sterilization Facility

Vial Filling Facility

Accumulation Transport Facility

Lyophilization Facility

Capping Facility
Experience in Facility Installation (Vial Injectable Formulation Facility)
Agitating Granulator Facility

Inspection, Subdivision, Packaging Facility

HVAC Facility

Fluidized Bed Granulator Facility

Injectable Formulation Automated Transport Facility

Injectable Formulation / Liquid Mixing Facility
Pharmaceutical Related Maintenance
We offer services to help you improve quality, safety and productivity based on our rich experience and high technical competencies garnered through years of our work in maintaining pharmaceutical manufacturing facilities. We can also proactively provide improvement proposals for your existing systems.
Target Work Area
Consolidated maintenance of pharmaceutical plant (periodic inspection and maintenance) (also available for partial work)
We can provide consolidated maintenance work for your entire plant, including manufacturing facilities (API, formulation, packaging etc.) and manufacturing support facilities (HVAC, pharmaceutical use water, utility facilities etc.).
Periodic Re-Validation
We draft periodic re-validation schedule and conduct actual work for pharmaceutical manufacturing facilities and provide you a report.
Calibration
Various control / instrumentation systems, quality control facility, monitoring system etc.
Periodic Maintenance (Support)
Create SOP for periodic maintenance (establish inspection points, inspection cycle, standards)
Proposal around maintenance cost reduction through risk assessment.
Diagnostic Service for GMP Facilities (Pre-audit inspection)
Confirm facility audit and facility related documentation through plant tour.