Manufacturing Site for Formulation and Packaging
Manufacturing Site for Formulation and Packaging
As a prescription drug manufacturing and packaging site with flexible facilities and production technology that is capable of handling a wide variety of products, Settsu Plant aspires to be a global class plant with high technology and high productivity. With our experience of clearing both domestic and overseas audits, we can assure a sense of security to our clients to enable smooth market launch.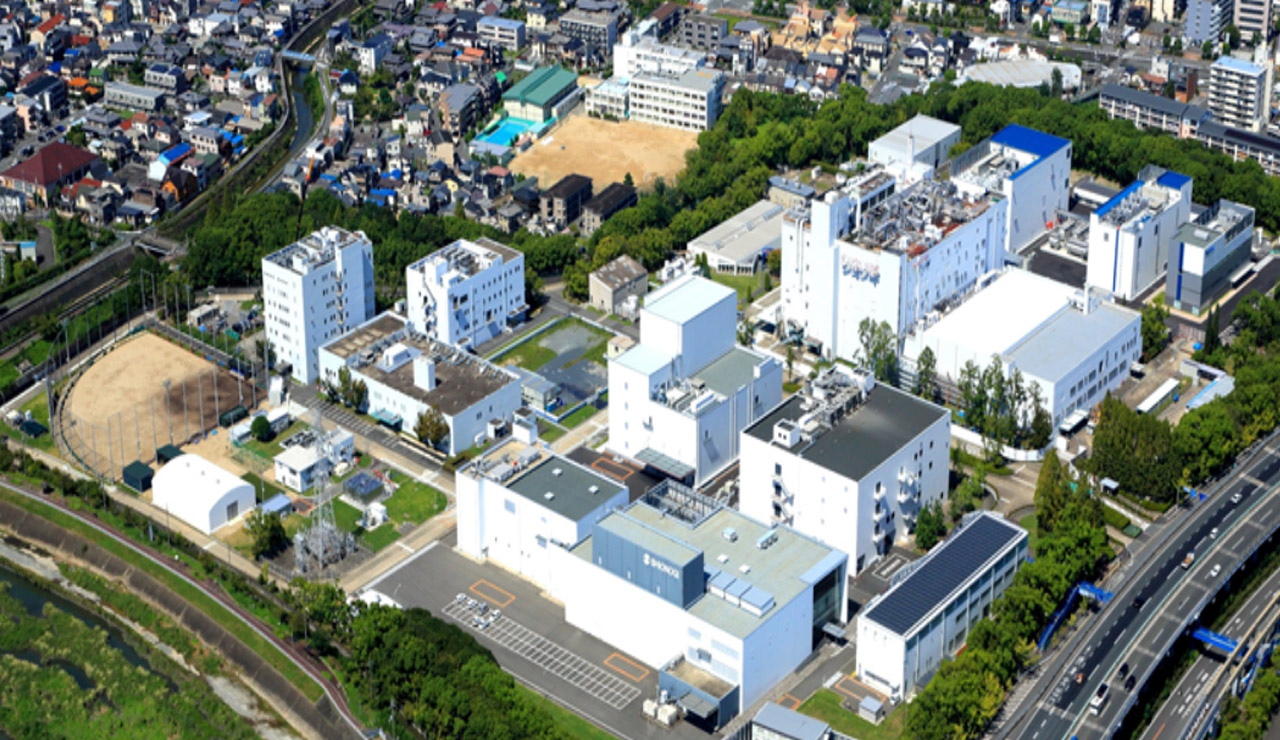 2-5-1 Mishima, Settsu City, Osaka 566-0022, Japan
TEL +81-6-6381-7341

Japan
PMDA


USA
FDA


South Korea
MFDS


Turkey
TMMDA

Oral Solid Formulation / Packaging Building
Formulation
We have manufacturing facilities for oral solid formulation (tablets, capsules, granules) for investigational new drug and commercial products. We have attained a global class high level of product manufacturing capabilities that meet requirements of Japan-USA-EU GMP and PIC/S GMP. By co-locating the investigational new drug and commercial facilities for the oral solid formulations in the same building, we ensure a smooth scale-up to commercial production.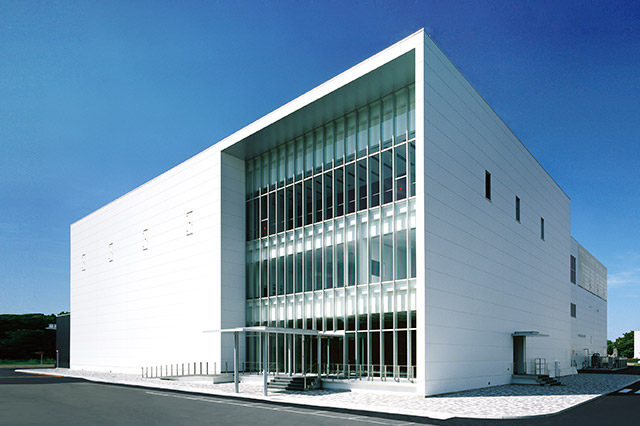 Settsu Plant Solid Formulation/Packaging Building
Pharmaceutical production utilizing our technology experience and know-how
Starting with the Wurster pellet making facility capable of fine-particle coating, we have a Tri-layer Rotary Tablet Press with external lubrication system. With our technology experience and rich know-how, we can conduct stable production even for unique formulations. With our flexible facility capable to handling a wide variety of products, we are capable in adapting to various products and lot sizes.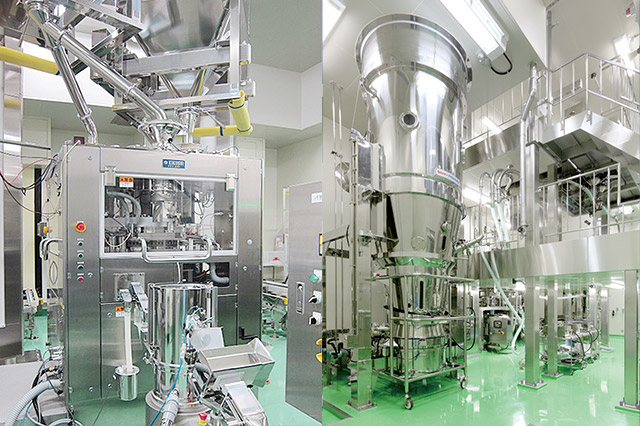 Packaging
We have PTP (Press Through Pack / Blister) packaging equipment with maximum production capacity of 6,000 tablets per minute to handle solid oral formulation (tablets, capsules.) Additionally, we have SP (strip pack) filling and packaging, bottle packaging, and containment PTP equipment. Settsu Plant is capable of handling various types of packaging needs.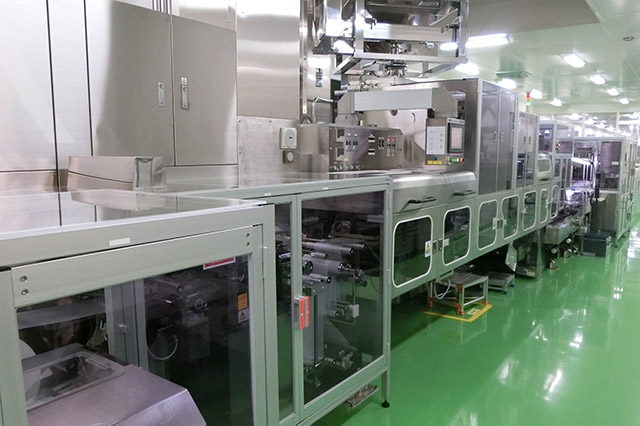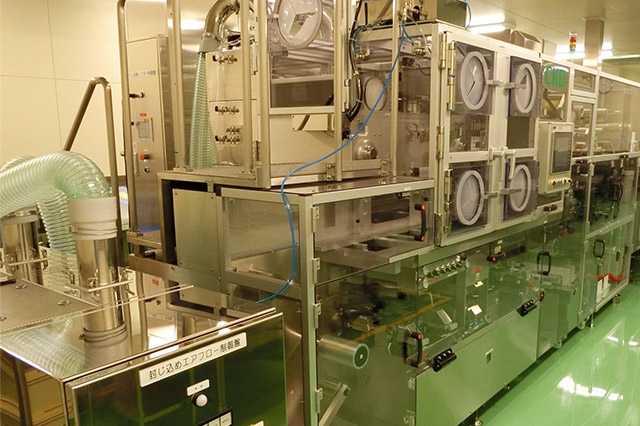 Corticosteroid Ampule injectables and Eye drop formulation / Packaging Building
Formulation
In compliance with PIC/S GMP, we have realized a world class high quality aseptic product manufacturing. Additionally, the storage and manufacturing control of ampule injectables, eye drop formulation, packaging and aseptic API are conducted according to the various laws and regulations and we have implemented thorough measures to confine high pharmacological activity formulation (corticosteroid) within the building. We have experience as a CMO for manufacturing and packaging of ampule injectables and have additional space for a new layout design of new production lines.
Ampule injectables formulation: water soluble injectables, lyophilized injectables, suspension injectables
Containers
Injectables: Glass ampules(1mL,2mL,5mL)
Eye drop formulation: Polyethylene bottles (5ml)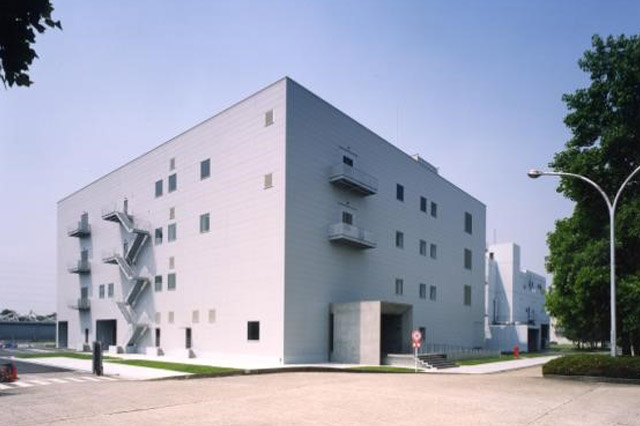 Ampule injectables / Eye Drop Formulation / Packaging Building
Major Facilities
Drug Solution Mixing Equipment

Solution Mixing Tank
・Water soluble injectable, lyophilized injectable (100L,400L,SUS)
・Suspension injectable (100L,SUS)
・Eye drop formulation (400L,SUS)
Isolator for suspension injectable

Filling Equipment

Ampule injectable
・Fused closure line for washing, sterilization, filling 250 ampules/min. (1ml ampule)
Eye drop formulation
・Filling and stopper attachment line (liquid fill) 200 bottles/min. (5ml poly ethylene -bottle)
Eye drop formulation line

Fused closure equipment for ampule filling
Inspection / Packaging
In compliance with PIC/S GMP and Pharmaceutical Affairs Law, the corticosteroid formulation for injectables and eye drops can be packaged up to 300 ampules/min for injectables and 200 bottles/min. for eye drop formulation. Also, automatic visual-inspection equipment checks the injectables and eye drop formulation for foreign matter, solution volume and appearance and then attaches a label with printed serial number and expiration date. For products that cannot be checked by the automatic inspection equipment (lyophilized, suspension injectables), human visual inspector conducts a 100% visual inspection.
Products with labels attached are inserted into carton boxes along with package insert, inspected and inserted into a cardboard box and then, they are ready for shipment.
Daily operation is conducted with high quality as our number 1 priority.

Ampule X-ray inspection equipment

Ampule external appearance visual inspection
Aseptic API
We can sterilize API for high pharmacological activity (corticosteroid) formulation.
Major Facilities
Aseptic API Facility
・Aseptic API mixing facility: crystallizer, mother solution / medium tank
・Isolator
・Lyophilization sterilization equipment
Aseptic API mixing facility

Isolator