Technology / Process Development / Investigational Medicine Products

Our platform for pharmaceutical and manufacturing technologies offers multiple options for your needs.
We offer a cost efficient one-stop service for the development of new drug compounds from our customer's clinical trial drug to commercial production and LCM using our unique technology and know-how.
Shionogi Pharma Co., Ltd are a leading contract service provider of pharmaceutical research, formulation processes and analytical testing methods.
Although Shionogi Pharma Co., Ltd is a relatively new entity, our customers benefit from our parent Shionogi's 140-year heritage and extensive experience in the research and development of innovative pharmaceutical medicines.
Our capability spans traditional and advanced technologies with unique 'know-how' to reduce manufacturing costs. Clients find our platform genuinely useful for subsequent scale-up and technology transfer from the stage of investigational drug manufacturing to that of commercial manufacturing.
We are your one stop, full-package-service partner!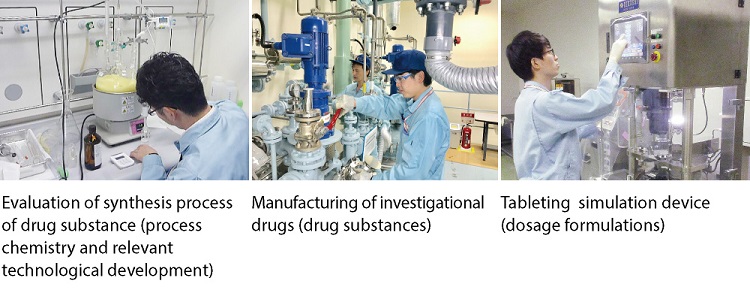 We provide a full range of services from medicinal product development to investigational drug and commercial product manufacturing
Drug substance manufacturing process development and process chemistry technology development
Evaluation of synthesis process of drug substance and process design and development (evaluation from chemical reactions to synthetic product isolation)
Process safety and environmental impact assessment
Improvement of manufacturing method (cost reduction and throughput improvement)
Synthesis of reference standards, impurities, and samples for evaluation 
Designing of dosage formulations (e.g. oral, injectable, and topical formulations)
Designing of functional and specific clinical formulations (e.g. orally disintegrating tablets, multilayer tablets, sustained-release formulations, solid dispersion formulations, bitter taste-masked formulation, granular formulations, and dry syrup)
Improvement of existing formulations (e.g. improvement in dissolution rate, stability, and stableness in the manufacturing process) 
Designing of packaging and labeling systems (e.g. oral, injectable, and topical formulations)
Designing and development of functional packaging systems (e.g. barrier and child-resistant packaging)
Designing and development of environment-conscious and ease-of-use-oriented packaging systems 
Investigational drug manufacture
GLP-compliant manufacturing of non-clinical samples
Manufacture of drug substances and medicine for clinical trial
Manufacturing facilities capable of performing efficient syntheses of molecules in several to several tens of kilograms and productive manufacturing of drug substances and finished products of various dosage formulations (e.g. solid, injectable, and topical formulations)
Support for regulatory submission application
Data collection for regulatory submission application and application support (new drug application and partial changes to approval matters) 
Evaluation of industrialization process (e.g. scale-up and optimization of commercial manufacturing facility)
Technology transfer (in-house and outside CMOs) 
Manufacturing of drug substances, API, and finished products (e.g. oral, injectable, and topical formulations) and preparation of packaging and labeling materials
Manufacturing of not only generic medicines but also commercial production of unique formulations and highly pharmacologically active compounds developed with Shionogi Pharma on the contract basis
Handling and management of manufacturing and supply of medicinal products for overseas markets and preparation for factory inspection by foreign regulatory agencies