Pharmaceutical engineering

We provide access to our competent group of engineers and technicians, all trained and experienced in manufacturing and managing equipment at pharmaceutical plant.
Our highly qualified facility 'artisan trained' engineers provide services for the construction, modification, validation & maintenance of pharmaceutical plants that meet customer needs and standards.
Our Pharmaceutical Engineering team are on-hand as your 'one-stop' technical partner, trained and experienced to undertake a series of works from technology and process development, analysis and testing services to the establishment of formulations and test methods after completion of facility construction.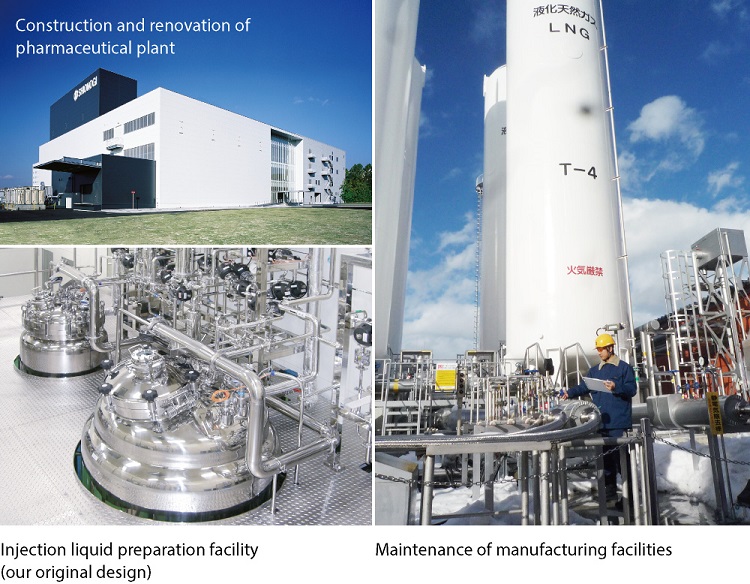 You will find us to be your best partner to whom you can entrust all sorts of drug manufacturing-related activities from planning and designing of pharmaceutical plant to commissioning and qualification (C&Q) and maintenance of facilities from the user's perspectives.
Contract pharmaceutical engineering services
Planning of pharmaceutical plant construction and renovation, designing and supervision, and consultation
Construction of new manufacturing facilities and equipment, and improvement and renewal of the facilities
Construction, improvement, and renewal of air conditioning, pharmaceutical water, and utility systems
Validation support services (inclusive of URS, DQ, IQ, OQ, and documentation) GMP compliance review services
Maintenance of pharmaceutical plant systems and equipment (periodic inspection and maintenance)
Periodic revalidation and creation of maintenance SOPs
Calibration services (e.g. measurement and control systems, quality control equipment, monitoring systems)