Surface analysis / Environmental analysis

We are ready to offer our services on morphological observation, composition analysis, and mapping analysis of micro areas.
We can generate and provide accurate analysis results based on our experience, knowledge and know-how on pharmaceutical products. 
We accept your orders for services for evaluating and analyzing a wide range of medicinal products by micro analysis.
Support for morphology observation and composition analysis at the micron level throughout a period from drug development to commercial production stages
Support for the establishment of rapid and accurate analysis systems by our technical experts experienced in high-performance equipment and latest software programs
Contract services for micro analysis as well as statistical data analysis customized to your needs 
We are capable of generating and providing analysis data based on our extensive experience in analysis to support your efficient pharmaceutical product development and process control and identification of entry routes of minute foreign substance.
Quality evaluation of APIs and secondary substances during a course of new pharmaceutical product development
Morphological microstructure observation of new chemical entities and morphological quality evaluation of chemical entities following modification of synthetic route (SEM*1) 
Evaluation of new dosage formulations
Structural evaluation of film formation condition in coating layers (SEM and EPMA*2 mapping analysis)
Analysis of internal microstructure of lyophilized formulations (SEM and EPMA mapping analysis) 
Evaluation of manufacturing quality of currently marketed products
Analysis of API distribution in dosage formulations following the improvement of manufacturing formula (SEM, EPMA, and EPMA mapping analysis)
Visual evaluation of the effects in improving organoleptic properties of tablets following the improvement of coating films (EPMA mapping) 
Evaluation of packaging functions
Morphological evaluation and analysis of hermetic function of PTP and SP packages (SEM and EPMA) 
Troubleshooting on the manufacturing process
Investigation of contamination with microparticles and adhesion of minute particles (SEM, EPMA, and FT-IR*3)
Investigation of customer complaints and claims for marketed products
Investigation of contamination with microparticles and adhesion of minute particles (SEM, EPMA, EPMA mapping analysis, and FT-IR) 
*1) Scanning electron microscope *2) Electron probe microanalyzer *3) Fourier transform infrared spectrophotometer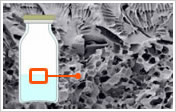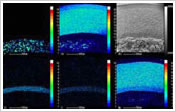 We are ready to support your environmental management control systems at pharmaceutical manufacturing facilities in compliance with applicable laws and regulations. 
Our laboratory is a testing laboratory accredited for a range of environmental monitoring and measurement services.
Registration of "measurement" certification office: Kei-sho No.: no-99
Organization registered at the Japan Association for Working Environment Measurement: Registration No. 28-0052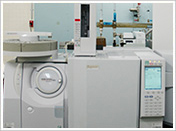 We are equipped with a range of analytical instruments and techniques for the measurement of the concentration of samples in water and soil.
A range of measurement services by using JIS K 0102 testing methods:
pH analysis
Biochemical oxygen demand (BOD) analysis
Chemical oxygen demand (COD) analysis
Total organic carbon concentration (TOC) analysis
Suspended solids (SS) analysis
Trace metallic elements by inductively coupled plasma mass spectrometry (ICP-MS)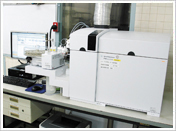 Analytical services for volatile organic compounds (VOC) by using JIS K 0125 testing methods
High sensitivity analysis by head-space gas chromatograph mass spectrometer (HS-GC/MS)