The quality of products is a key factor for every company to stand out as a trusted supplier.
We can offer highest-quality tests that are essential for ensuring the quality of pharmaceutical products. 
Quality tests are performed by our properly trained and experienced personnel in accordance with the applicable reliability criteria at our GMP-compliant laboratory.
We offer comprehensive support and testing capabilities on the following test items in accordance with the procedures listed in official requirement:
Acceptance tests of active pharmaceutical ingredients (APIs) and secondary substances
Quality tests of APIs and drug substances
Quality tests of solid dosage forms such as tablets, capsules, powders, and granules
Quality tests of injectable formulations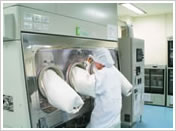 Our laboratory specialists can undertake any type of pharmaceutical tests you need, including physicochemical and microbiological tests.
Powder characterization
Sterility test
Microbiological limits test
Endotoxin test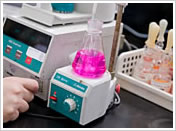 We are capable of testing specific types of chemicals.
For example, cephem and carbapenem antibiotics, highly pharmacologically active compounds