Establishment of test methods for pharmaceutical products and validation of analytical methods

Our wide range of testing services includes support for your new drug development.
We can undertake development and establishment of test methods for any type of materials necessary for the manufacture of medicinal products.
Acceptance tests of raw materials
Specifications for APIs and drug substance
Specifications for solid dosage forms (e.g. tablets, capsules, powders, and granules), suspensions, injections, etc. 
We are well experienced in designing and performing tests and studies to prepare high quality data and reports in support of customer's license application.
Establishment of test methods specifically designed for quicker analysis of pharmaceutical substances
Development of highly sensitive and accurate test methods
Establishment of highly robust test methods with minimum inter-instrument and inter-laboratory differences in test results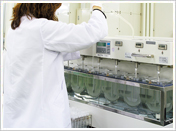 It is one of our core services to undertake validation studies of a wide range of analytical methods.
Implementation of validation of analytical methods on related substances, assay, dissolution test, residual solvents, etc.
Proposal of analytical method validation in line with your new drug-development stage 
We are ready to undertake other tests that you need during new drug development.
Quality assessment of investigational drugs
Stability tests for determining storage conditions and shelf life for investigational drugs
Equivalence tests when changing in resource of raw materials, manufacturing method, and dosage formulations